Hyperscale data centre solutions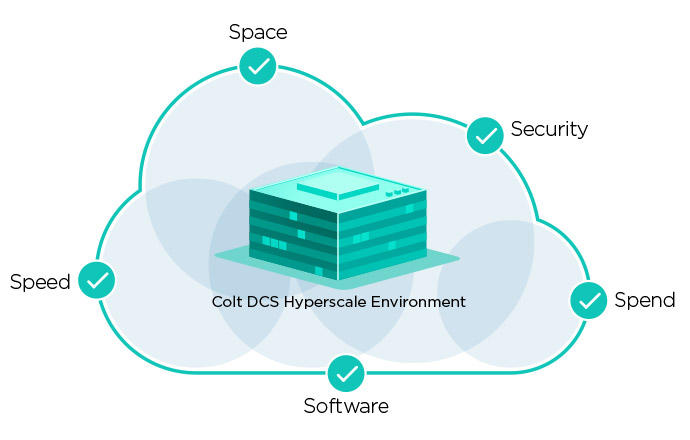 Advantages to Hyperscale environments
There are many advantages for deploying within a Hyperscale environment with Colt DCS, as you will benefit from our experience, options and management. We are committed to make sure that you get a greater return on your data centre digital infrastructure investment.
Hyperscale data centres
Here at Colt DCS, we are evolving with our customers by providing seamless connectivity solutions to global Cloud Providers, Managed Service Providers, Systems Integrators and Carriers. View our story of flexibility and scale.
Our Hyperscale data centre locations
London North

With over 12,000sqm of secure and flexible space, our London data centre provides market leading services.

London West

This Tier 3 facility offers state-of-the-art technology, resilience and 24/7 security, engineers with 15 MW of power.

Paris South West

With state-of-the-art technology and offering over 5,000sqm of data centre space, plus having 20 MW of power available, this location has the scalability of energy.

Rotterdam

Ideally located between Amsterdam, Rotterdam, Antwerp and Brussels with over 20 halls within 10,000sqm of data centre space, and with expansion opportunities.

Frankfurt West

Our Frankfurt Data Centre has 10,000sqm of secure resilient space available and has a planned power capacity of 35 MVA.

Tokyo Inzai Two

Purpose-designed to meet the high security needs of customers with mission-critical data, this location is earthquake resistant and features state-of-the-art technologies.

Osaka

This Tier 3+ facility offers carrier neutral network access, highly efficient and uses natural energies such as free cooling and solar.

Mumbai

Navi Mumbai is a prime location with access to high concentration of fibre routes and multiple entry points available to carrier hotels.
Talk to us
If you would like one of our data centre specialists to get in touch to discuss your requirements, please complete and submit this form*.

Alternatively, you can reach us on the phone numbers and email address listed below.
*By submitting your details, you agree to our T&Cs.