Connectivity where IT counts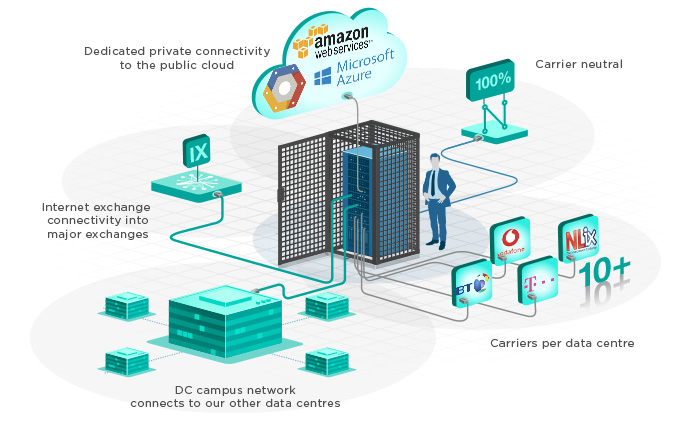 Our connectivity is 100% carrier, cloud and IX neutral, with services delivered on demand. This means we can structure connectivity around our your needs, whether you require global or local access to services, bandwidth, flexible pricing and future proofing. Colt DCS is one of the most globally connected data centre providers in the market. From any one of our facilities, through Colt and our partners, you can leverage pre-provisioned connectivity to any data centre or service provider, no matter where they are located in the world.
100% Cloud, Carrier and Internet Exchange neutral
What we offer:
Access to AWS, Azure and connections to thousands of data centres across Europe

100% carrier neutral, cloud neutral and IX neutral sites

Data centre-to-data centre connectivity options

Metro market data centre connectivity in Colt DCS locations

Connectivity between key Asian and European markets (for example Tokyo to London)

Consulting services to help future proof your deployment

Scalable connectivity to go alongside our scalable/flexible space and power options

A roadmap for growth across and into new high bandwidth locations
Global approach with local knowledge
We connect hyperscale cloud providers to managed service providers, systems integrators, carriers and the enterprises using the end services, bringing a rich history of more than 20+ years of experience with data centres, networks and IT services delivery to your company's operations. Colt DCS offers premium cross connects to different data centres in each market for customers seeking more than one location or access to services across the Colt DCS global portfolio of data centres.
Cloud connectivity and hybrid cloud infrastructure
The way cloud services are being consumed has changed the data centres are being used, so Colt DCS has changed the way we deliver them. We offer redundant carrier-neutral, low latency connectivity between more cost effective, sustainable data centres on the edge of leading markets where the cloud lives, and core aggregation centres close to where your business and end users are. Allowing our customers to future proof their hybrid cloud environments. We also offer DC Connect, which means you can establish connections with a simple cross connect to providers already within our estate, increasing performance, reducing latency, and adding secure, resilient connections to the cloud.
Dedicated Cloud Access
Colt DCS Dedicated Cloud Access (DCA) on Demand offers instant dedicated private connectivity into the cloud services your company relies upon. You can connect to services in country and internationally, using Colt DCS dedicated connections and third-party carriers using our portal-based service that can deliver connections in minutes once a cross connect is in place.
DC Connect can link you directly to Carriers, Internet and Cloud Service Providers, Internet Exchanges, Financial Exchanges, content distributors and any other enterprise. Data Connect offers the following features as standard:
Direct connections using your choice of media, including copper and fibre
Connector types to meet your needs, including LC, ST, SC, RJ45, etc.
Terminated by you or by using Colt DCS Remote Hands
Tested, labelled, and service assured
Prior to delivery we will help you with media and connector decisions to meet your technical requirements.
Customer benefits
Direct connectivity with flexibility, reliability, low latency and cost-effectiveness

Business agility, speed and cost savings throughout our 24 global data centres

Straight-forward reliable connectivity to Carriers, ISPs and Internet Exchanges

Direct connectivity to any tenant within the data centre

Flexibility to connect to any of your choice of partners

Direct reliable cable conections

Fast set-up to get businesses connected with low-cost alternatives to local loops and purchased circuits

Low-latency via wireline network performance
Talk to us
If you would like one of our data centre specialists to get in touch to discuss your requirements, please complete and submit this form*.

Alternatively, you can reach us on the phone numbers and email address listed below.
*By submitting your details, you agree to our T&Cs.