Environment Sustainability
At Colt DCS we strive to be environmentally and socially responsible. That's why we are proud to use a significant proportion of renewable energy to power our soon to be launched Colt Mumbai Data Centre, by providing the most cost efficient and reliable commercial offerings, as well as supporting our customers sustainability goals alongside our own.
Our Commitment towards Environment Sustainability
In 2022, Colt DCS gained a Platinum rating from the world leading sustainability provider, EcoVadis. This rating was achieved for our environment, social and governance (ESG) performance.
Carbon Disclosure Project (CDP) was also awarded to Colt DCS for our company's environmental performance. Having one single operating standard across our entire global data centre portfolio means that the same standard of design, management and operational procedures which are set by external governing bodies and measured against stringent criteria, also apply at our Colt Mumbai Data Centre.
Our waste policy is to develop a culture of sustainable business behaviour based on the waste hierarchy and principles of reduce, reuse and recycle and to design, construct and operate our facilities with zero waste to landfill. Furthermore, there are a number of 'green' initiatives and targets that Colt DCS are striving towards to support the practice of sustainability at our Colt Mumbai Data Centre:
Ensuring zero waste to landfill, meaning making efforts to divert waste from landfill and incineration in a phased targeted manner and achieving average of greater than 90% of diversion

Implementing energy saving measures as per the Energy Conservation Building Code issued by Bureau of Energy Efficiency, Ministry of Power, Govt. of India

To become Net Zero Carbon by 2045 by implementing carbon reduction programs accredited by Science Based Targets Initiatives (SBTi)

Conserving water on site using PKDX technology and ensuring zero liquid discharge to eliminate wastewater levels

Establishing an Environmental Monitoring Plan (EMP) during the operational phase

Using star rated HVAC energy saving equipment

Installing LED lighting fixtures and solar cell powered street lights

Planting trees and landscaping the campus environment

Exploring options to set up electrical vehicle charging facilities within the campus area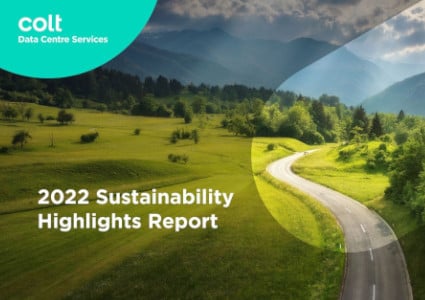 Colt DCS Sustainability Report 2022
Discover how we're building towards a sustainable hyperscale data centre future.
"Adopting sustainable culture into the design, build, and operational running of our Colt Mumbai Data Centre is essential. Not just for Colt DCS, but also for our customers by providing them with the reassurance that they are partnering with a hyperscale data centre provider that is strategically aligned to support them in achieving their sustainability goals''.
To find out more about why sustainability matters and the steps Colt DCS are taking across our global data centre portfolio, simply click here.
Talk to us
If you would like one of our data centre specialists to get in touch to discuss your requirements, please complete and submit this form*.

Alternatively, you can reach us on the phone numbers and email address listed below.
*By submitting your details, you agree to our T&Cs.