Data Centres
Mumbai, India, 17 Jan 2019
Colt DCS is opening a new data centre in Mumbai
This new location will help hyperscale operators and other companies meet the extraordinary demand for digital services in India.
The 100MW data centre, which is planned to open in the second half of 2019, will be Colt's first facility in the country.
Mumbai is an ideal location for Colt DCS to open a data centre given the tremendous interest in the city and the country on the part of international cloud service providers.
Firms based in India's financial capital need the highly resilient and scalable solutions that Colt has a long history of providing.
"We are tremendously excited to be part of the digital transformation journey in India. The country is a hot spot of digital innovation, and there is a hugely unique opportunity for us to be the very first western data centre provider to enable the delivery of [cloud computing and services] across India, this is huge milestone for the organisation and a very exciting point in time for the expansion of our business."
Low Latency Service
The Mumbai facility will also boost the country's compute capacity and providing a wide variety of businesses access to the low latency, high-bandwidth services that Colt DCS provides.
Colt DCS is particularly well suited to become the first mainstream Western data centre operator to open a facility in the country given its history of operational excellence.
The Mumbai data centre is part of a broader plan the company has to build multiple data centres in the area.
The campus-style development Colt will create next year gives the London-based company an opportunity to build additional facilities. To enable a rapid delivery of the site, Colt DCS has secured a super high-voltage power supply of 150MVA utility feed to the site.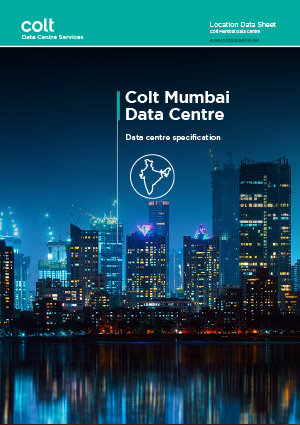 Mumbai Hyperscale Data Center Overview
Download our Mumbai Hyperscale Data Center data sheet to view what this location has to offer.
We offer an average of 10 carriers with a Point of Presence in each site, and up to 17 customers to choose from in major European and Asian markets.
Should you require a preferred network carrier than what we already have on-site, we can assist with the on-boarding and setup requirements.
If you are considering migrating to this location, we also have a team of specialists that can support you and manage the whole process.
By submitting your details, you agree to our T&Cs.