MSP's and Cloud Providers
High demand for colocation
Colocation services are in high demand from organizations of all sizes and industries, providing significant incremental revenues and profits for value-added resellers, systems integrators and managed service providers.
But how do you choose the right colocation partner?
Our white paper gives you important tips and valuable recommendations, and explains why Colt Data Centre Services could be the right colocation and cloud connectivity partner for you.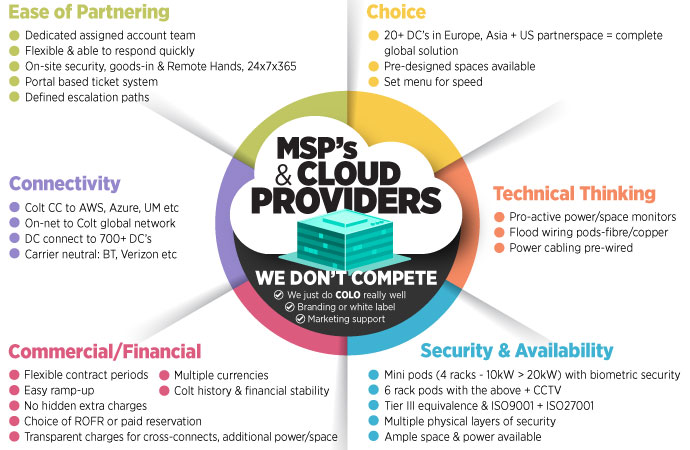 MSP's and Cloud Providers
There are many reasons why partnering with a world-class colocation services provider, such as Colt DCS, makes good business sense for VARs and MSPs. For VARs, integrators and MSPs selling managed or subscription-based services, colocation is typically a foundational element in their services. For those organizations' managed services to succeed, they need a reliable platform to underpin their ability to act as a one-stop shop for end-user customers. Topics cover the many benefits of what, and why, partnering with us is an ideal business proposition.
Colocation partnership benefits for Managed Service Providers
Graham Munro, overviews key points for Managed Service Providers to consider when selecting a colocation partnership.
Download our white paper
Discover why now is the ideal time to partner with a colocation provider.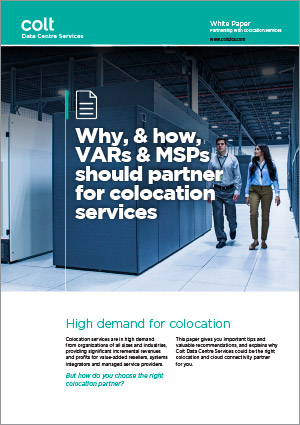 Why VARs and MSPs should partner for colocation services
Discover topics such as:
Reasons for partnering
Strategy considerations
Complimentary objectives
Business resources
Technical resources
Corporate resources
What it's like to partner with Colt DCS