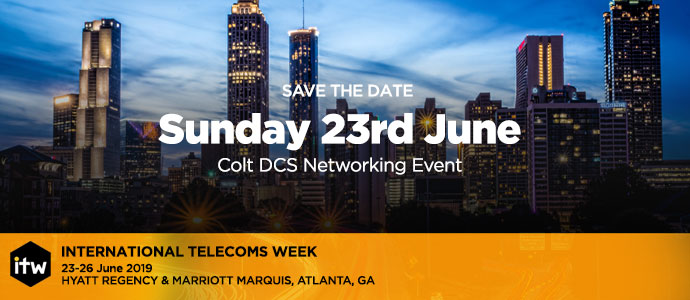 Taking you to new heights
We are delighted to be hosting an exclusive networking evening to kick start ITW 2019. Taking our customers to new heights this year, we will be taking a VIP flight on the Skyview Atlanta offering a stunning 360 view of this beautiful city.
Reserve your place
Cloud connectivity solutions
Your partner for deploying and managing digital infrastructure
Colt DCS is the perfect partner to facilitate connectivity between carriers and between carrier and enterprise or service provider.
Colt DCS offers an average of ten carriers with a Point of Presence in each site – and up to 17 for customers to choose from in major European and Asian markets.
Our internal and portfolio based connectivity options means you can have extended reach into cloud, IX, carrier and other service though Colt or its carrier partners.
Your Colocation gateway to Europe and Asia
Colt DCS is 100% carrier neutral, so can manage private and secure connections to all major cloud platforms, to assure that your business achieves the success it deserves, for colocation and hybrid cloud connectivity no matter where you are in the world.
Connect globally with Cloud connectivity. A secure environment for you to deploy, manage and scale your digital infrastructure within.
Carrier neutral connectivity
Flexible and scalable colocation solutions
Your company's data centre requirements need to adapt to new technologies and changing business requirements. That is why we have built flexibility into every aspect of our proposition. We offer a wide range of colocation solutions, leveraging our modular designs for customised – and simplified – services delivered with flexible and transparent commercial solutions.
Colt DCS has more than 20 years' experience in delivering best-in-class data centres. We are a pioneer of modular, flexible design and operation of highly resilient and efficient data centres.
Flexibility and scale is increasingly important in an age where some applications that are here today could be gone tomorrow, while others will proliferate and require room to grow in the data centre and across geographies. Our ability to cater for this movement is one of the reasons customers choose Colt DCS.