Megaport connects customers to leading cloud platforms
Colt DCS partnering with Megaport Limited

Megaport is a leading Network as a Service (NaaS) provider, that connects our customers to the world's leading cloud platforms.
Megaport's Software Defined Network (SDN) enables users to connect to a range of cloud platforms globally and on-demand. With Megaport, Colt DCS customers will gain access to direct, scalable, secure connectivity to major cloud service providers such as Amazon Web Services, Microsoft Azure, IBM Cloud, Oracle Cloud, Google Cloud Platform, and over 250 service providers.
Megaport's open API integrates with cloud and network service providers. This provides full-service automation and eliminates manual provisioning processes so connectivity can be delivered in less than 59 seconds, thus reducing deployment timeframes while also simplifying administration of multicloud and hybrid cloud connectivity. Through Megaport's intuitive portal, users simply set the amount of capacity they need – up to 10Gbps – for the duration they require, for one or more connections to the service providers of their choice – all through one port. Additionally, the Megaport platform enables users to bypass the public Internet and establish reliable, direct and private connections with partners around the world.
The Megaport service is available to our customers worldwide.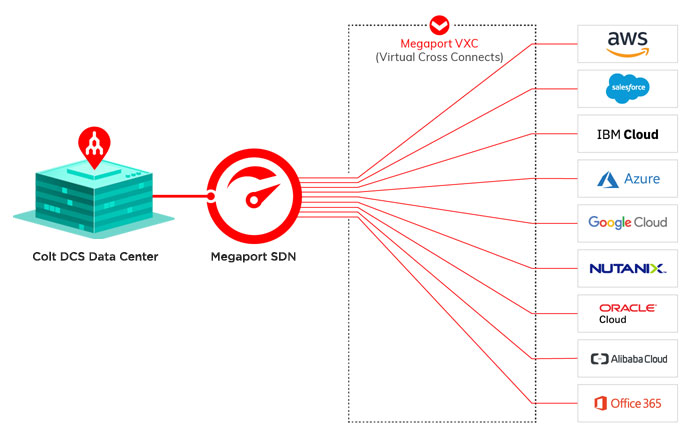 Multi-Cloud Connectivity
We can provide our customers with a secure, high-performance cloud connectivity solution leveraging a powerful SDN. Fast, flexible and direct access to global leading cloud providers.
Megaport connects over 1,250 customers in over 380 enabled data centres globally
Megaport is the global leading provider of Elastic Interconnection services.
Using Software Defined Networking (SDN), the Company's global platform enables customers to rapidly connect their network to other services across the Megaport Network. Services can be directly controlled by customers via mobile devices, their computer, or our open API.
Megaport is an Alibaba Cloud Technology Partner, AWS Technology Partner, AWS Networking Competency Partner, Google Cloud Interconnect Partner, IBM Direct Link Cloud Exchange provider, Microsoft Azure Express Route Partner, Nutanix Direct Connect Partner, Oracle Cloud Partner, and Salesforce Express Connect Partner.
To learn more about Megaport, please visit: www.megaport.com
Get in touch
If you would like to know more about how we can get you
connected to the Cloud
, please complete and submit this form*
*By submitting your details, you agree to our T&Cs.