Energy efficiency, how to improve power usage effectiveness
Power usage effectiveness
Bigger isn't always better.
Power usage effectiveness (PUE) is a widely-used data centre metric employed by operators.
The smaller the PUE number, the more efficient the data centre operations, which is the goal data centre managers strive to achieve.
Our white paper will help you to improve PUE
Measure power usage

Regulate airflow by preventing mixing of hot and cold air

Align hot and cold aisles

Introduce aisle containment

Reduce air flow leaks

Check flooring for potential air leakage

Control air temperature

Regulate humidity

Identify redundancies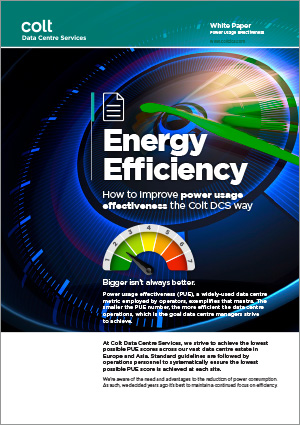 Energy efficiency white paper
Download and discover how you can achieve greater energy efficiency.
In our white paper, we outline the ways on how you can improve power usage effectiveness (PUE).
Become familiar with what your business and teams need to know with achieving energy efficiency.
If you would like further details about PUE, please let us know.