Flexibility and scale
For an increasing number of organisations, Hyperscale Data Centres provide the flexibility and scale that are fundamental to the smooth running of their businesses. Without them, they simply wouldn't be able to exist.
Driving the need for hyperscale
The demand for Hyperscale Data Centres has grown significantly in recent years as a result of a number of key drivers.
Data driven technologies

Whether its autonomous cars, AI, IoT, AR or VR – many emerging technologies depend on vast amounts of data to function.

Mobile traffic

The mobile industry continues to see huge growth in mobile internet and data consumption on a global basis.

Cloud computing

The demand for cloud computing infrastructure continues to grow at an exponential rate.

Social media

The meteoric rise of social media platforms shows no sign of slowing. Scaling to meet demand remains crucial.

OTT content

Localised services are required to support the rapid adoption of OTT and video streaming services around the world.
''Many organisations are turning to hyperscale solutions to plug the gap in their services, meet rising demand and gain a strategic foothold in new and fast-growing markets.''
Benefits of hyperscale
There are a number of key features setting Hyperscale Data Centres apart from traditional storage facilities.
Space

Our vast environments provide you with the ability to quickly scale to meet evolving business demand.

Speed

When it comes to delivering exceptional user experiences, speed and responsiveness are key.

Spend

Get up and running fast. Without the overhead of building your own facility.

Security

Our smart approach to physical security using reactive systems ensures that all security events are detected and dealt with quickly and effectively.

Site

With a selection of sites located around the world, we bring you closer to your users.

Software

Access to the latest technologies and upgrades like Zoom, Office 365, and AWS for Enterprise.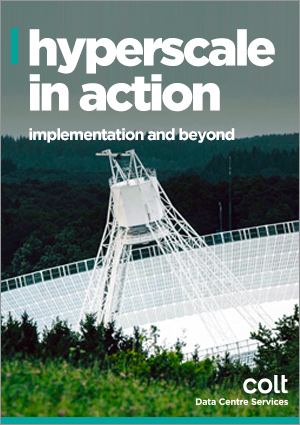 Hyperscale In Action
Managing a large-scale hyperscale project can be difficult, with shifting priorities and interests from different stakeholders.
This guide will examine the major phases of a hyperscale implementation – from preparation to installation and operation – helping you to understand the best choices and actions to take at each stage, to get the most from your investment.
Download your copy now, and if you would like further details, please let us know.