Our hyperscale experience
Hyperscale with global scale
Seamless service across geographies and technologies
We connect hyperscale cloud providers to managed service providers, systems integrators, carriers and the enterprises using the end services, bringing a rich history of more than 20 years of experience with data centres, networks and IT services delivery to your company's operations.
Colt DCS is a global leading data centre provider
We're in a fast growing segment where Hyperscale cloud providers are requiring a significant amount of data centre capacity. We're reacting to this demand, where our in-house teams have extensive experience to design and implement end-to-end solutions for our customers.
In-house support
Our in-house engineering, operations and support teams have more than 20 years' experience guiding customers through their data centre journey, from financial services companies with mission critical needs to hyperscale cloud providers and enterprises requiring flexibility and scale.
Our deep technical understanding and customer-centric approach has placed us at the forefront of many leading developments.
Our engineers work closely with the wider industry to ensure our data centre designs are second-to-none, and our specialist real estate team and local skills on the ground means we are well positioned to meet your local and global requirements.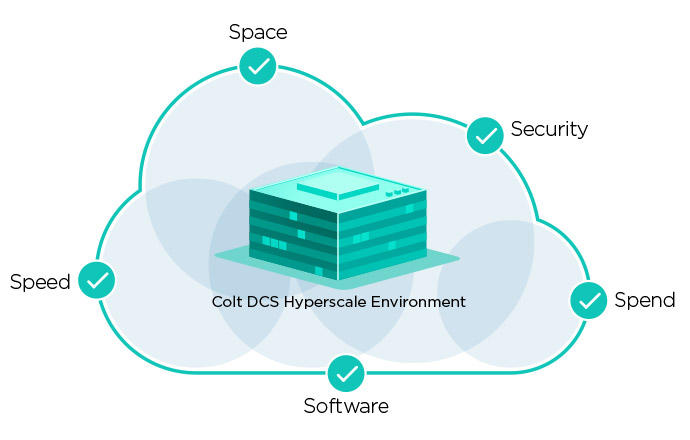 Advantages to Hyperscale environments
There are many advantages for deploying within a Hyperscale environment with Colt DCS, as you will benefit from our experience, options and management. We are committed to make sure that you get a greater return on your data centre digital infrastructure investment.
Partnerships

Our commitment to partner service excellence results in business efficiencies and drives lower total costs of ownership.

Performance

Our portfolio delivers from 1MW to 150MW, locally and globally, and with future expansion.

Development

Our teams manage end-to-end construction and development practices for time efficient deployment.

Build to Suit

From customer-led land acquisitions to existing wholesale facilities, our teams will get you connected globally with premium support.

Sustainability

Our European locations use power generated from renewable resources. We're proud to continue our sustainability across all new builds.
"We're committed to providing our customers with carrier-neutral connectivity services on demand when and where they need them, allowing scalability in the locations they require."
Talk to us
If you would like one of our data centre specialists to get in touch to discuss your requirements, please complete and submit this form*.

Alternatively, you can reach us on the phone numbers and email address listed below.
*By submitting your details, you agree to our T&Cs.