How to Migrate to a Data Centre
There are a few categories that migrations fall into when considering the move of servers and other systems to a new data center.
Swing migration
One type is a swing migration, which means moving hardware and systems to a new data centre, where a temporary hosting server location for the enterprise applications are used for the time it takes to have the source servers physically moved and installed in the destination data centre.
Push / Pull migration
A 'push/pull migration', where the applications are transferred to the destination data centre and installed on the resident servers, without a transfer of equipment beforehand, can be conducted instead.
The 'push/pull' method implies careful planning and subsequent execution on the part of the infrastructure and operations professionals involved. That's because it can take several hours to rebuild a stack if the transition isn't successful. This time frame covers the window needed to perform necessary tasks such as data backup, de-installation, re-installation, and user acceptance testing and a variety of other essential steps, whilst minimising staff and contractor hours.
Lift and shift migration
Whenever possible, organisations can take a 'lift and shift' approach to migration. In effect, it's a "move as is" approach, where preparatory duties are completed before the migration of applications to the new data centre.
It's also an approach that can lessen risk and complexity during the move to the new destination data centre. However, the "lift and shift" approach typically requires change management controls to assist in the tracking of application updates and migration schedules.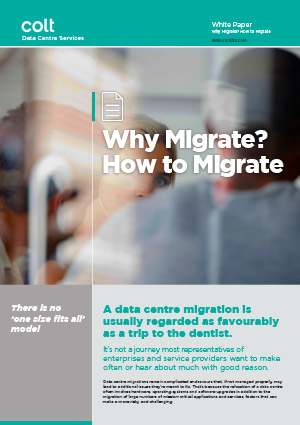 Why Migrate? How to Migrate
Download our white paper on our Migration support and checklist.
There is no 'one size fits all' solution.
Review considerations on when and how to migrate your digital infrastructure:
Discovery
Planning
Development
Validation
Management