Building data centres to suit your requirements
Colt DCS's fully customisable, bespoke wholesale data centre options provide greater choice for those wanting control over the designs, infrastructure, commercials, services and security for their data centre. With more than 20 years' experience in designing and building facilities and managing environments, and our global footprint and local expertise, we can take you into new markets at a competitive price or build out in existing locations.
Our wholesale services range from customer-led land acquisitions for the construction of sites in new locations to building-to-suite in existing wholesale facilities, allowing you to instantly tap into Colt's existing skills and community with connectivity across our global footprint and premium support.
"Our real estate team will resource any location globally that will best suit our customer's requirement. We will also assist local compliance and regulatory processes so that progress is fluid and controlled."
Our real estate teams manage your risk
At Colt DCS, we focus on where our customers need to be, building highly connected sites in the centre of key European and Asian business hubs and lower-cost wholesale on ramps on the edge of these markets. Our solid financial backing, and commitment to spend more than €200m in the next three years on building new sites, means we can work with our customers to identify new locations and ensure we are placing facilities where you need to be.
Our dedicated real estate team ensures the careful pre-selection of sites around the world, while our local experts can help overcome 'red tape' and compliance and regulatory concerns for customers entering new markets.
Colt DCS has a number of existing markets earmarked for expansion or new markets planned. These include site acquisitions in:
London
Amsterdam
Mumbai
Singapore
Osaka
And new locations in:
Sydney
Seoul
Melbourne
Malaysia
Colt DCS' real estate teams understand the challenges that come with entering new markets, and that often, our anchor tenants require access to these with speed. Our experts are always talking with customers about where their next requirement might be, and identify land-banking options with pre-approved construction permits and power purchase agreements which means we can build out as soon as our anchor tenant requires.

Custom fit layer for access to services and greater control
We offer choice in:
A hall or dedicated suite with controlled access

Power densities

Data centre resiliency levels

Cooling technologies used

Operational data centre temperature

Physical and cyber security options

Extra office space, storage or meet-me-room capabilities

Value added services including remote hands and migration assistance
Built to suit Platinum+ support:
In-life support and reporting

Adherence to agreed SLAs and active reporting of incidents

Problem management and continual reporting on projects and break fixes

Customer quarterly review with Colt services, manager and key customer sponsors

Quarterly reviews carried out on pricing and SLAs

Monthly reporting on power usage, environmental conditions, incidents/changes

Monthly performance review with and suggested improvements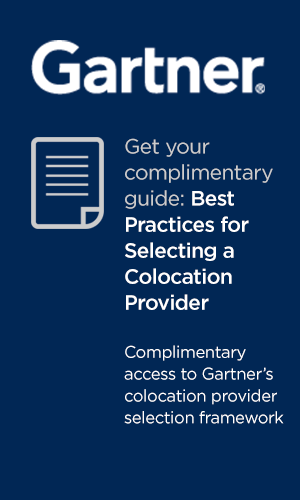 Get your complimentary guide today
Buyers of colocation services are now commonly interested in far more than simply letting space. In addition to traditional facility differentiators (eg: power density and resilience), other services, such as interconnection capabilities and managed services, enable colocation to play a more strategic role in global infrastructure delivery and network design. Simply complete and submit this form*, and you will have access to this industry leading report from Gartner.
*By submitting your details, you agree to our T&Cs.