Tokyo Shiohama Data Center
Hyperscale Data Center in Tokyo
Colocation services
Carrier neutral cloud connectivity
Our hyperscale data center in Shiohama, Tokyo is our flagship site in Asia, with state-of-the-art technology, 24x7 security and 66kV of closed loop power.
We have multi-lingual specialists on-site to manage your digital infrastructure needs.
Download our data sheet for full technical details, or let us know if you would like to book a tour.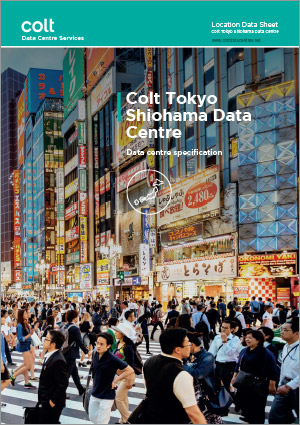 Tokyo Shiohama Data Sheet
Download our Tokyo Shiohama data sheet to view what this location has to offer.
We offer an average of 10 carriers with a Point of Presence in each site, and up to 17 customers to choose from in major European and Asian markets.
Should you require a preferred network carrier than what we already have on-site, we can assist with the on-boarding and setup requirements.
If you are considering migrating to this location, we also have a team of specialists that can support you and manage the whole process.
By submitting your details, you agree to our T&Cs.
For direct enquiries, talk to our experts in local teams
USA

408 930 7011

Japan

03 4560 7100