Berlin Data Center Colocation and Cloud Connectivity Enablement
Berlin Data Center
Connect to the Cloud with our carrier neutral Berlin Datacenter
Our Berlin Data Center offers over 3,600sqm of secure resilient space, is Tier 3, carrier neutral with state-of-the-art technology and around the clock 24/7 security.
Data center migration teams can support your move into our Berlin Data Center, so please get in touch to discuss your options.
For full specifications of our Berlin Data Center, please download the datasheet by completing and submitting the form below.

Carrier partners
Colt Berlin Data Center is carrier neutral. Our on-site connectivity partners.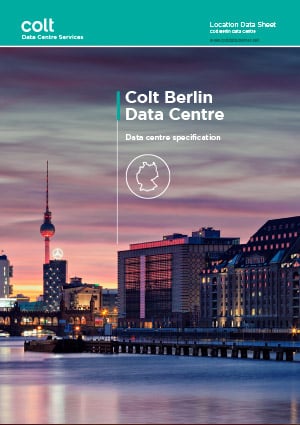 Berlin Data Center Overview
Download our Berlin Data Center data sheet to view what this location has to offer.
We offer an average of 10 carriers with a Point of Presence in each site, and up to 17 customers to choose from in major European and Asian markets.
Should you require a preferred network carrier than what we already have on-site, we can assist with the on-boarding and setup requirements.
If you are considering migrating to this location, we also have a team of specialists that can support you and manage the whole process.
By submitting your details, you agree to our T&Cs.
Talk to our Data Center specialists:
0800 000 1063

+49 69 566086634