Enabling the new era of business
With every year that passes, the need for businesses to be flexible and adaptable grows more important. Whether it's reacting to economic fluctuations, seasonal demand or unforeseen 'black swan' events, businesses that adapt the fastest stand the best chance of not just surviving, but succeeding in both the short and long term.
This flexible business model, which companies are increasingly aspiring to, extends across the entire organisation, including the way people work. Catalysed by the pandemic, there has been a huge rise in home working. These physical changes will be underpinned by something we cannot see, but which is increasing at an exponential rate year-on-year: data.
To facilitate this growth, hyperscale data centres will take centre stage and will allow companies to grow like never before.
Why are businesses leveraging hyperscale data centre solutions?
There are a number of business trends, which are well underway:
Digital acceleration

Businesses are experiencing a keen digital acceleration with more organisations investing more IT spend on the cloud, a number which will only increase as the years go on. Businesses that are serious about digital acceleration should look no further than hyperscale data centres.

New ways of working

Many businesses have proven that working from home is viable and, in some cases, a preferable way of working. To continue to provide and ensure this, hyperscale data centre solutions will be paramount.

Technology-driven resiliance

Technologies such as AI, machine learning and computer vision allow businesses to generate insights and problem solve quickly and effectively. Being data-intensive, this is something which can most effectively be supported through hyperscale data centres.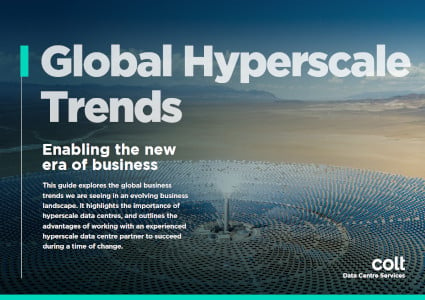 Global Hyperscale Trends E-guide
Download this guide to identify the global business trends we are seeing in an evolving business landscape. Explore the importance of hyperscale data centres, and understand the advantages of working with an experienced hyperscale data centre partner to succeed during a time of change.