Best practices for selecting a colocation provider
You've decided to outsource your company's data centre operations.
What are the best practices employed by colocation providers?
Colocation suppliers own and operate data centres where space, power, cooling and further value-added services are available to customers. There are five factors that should be considered first.
Our whitepaper 'Five Factors to Consider When Choosing a Colocation Data Centre Provider' identifies key identifiers for anyone looking to implement a long-term data centre strategy.
"Before selecting a supplier, build a clear picture of future intentions such as, business goals and technology strategy. Tactical colocation sourcing may suit the short-term, but there's risk of missing out on valuable long-term modernisation opportunities."
The role of the colocation data centre
Edge data centres won't replace existing data centre designs; the sites will compliment and serve customers with the most latency-hungry workloads. Colocation data centre providers have adapted to this reality.

To that end, there are two types of edge data centres offered by multi-tenant data centres (MTDC). Providers, such as Colt Data Centre Services, provide the first type from their many colocation facilities. Colt does so by offering space in smaller facilities that are used to serve secondary locations. This type of colocation provider aims to provide space, power and connectivity for their main customers, many of whom will be service providers. These companies have full data centre capabilities within a facility. Otherwise, a modularised site located close to the edge of an organisation's main network is offered.

Other data centre providers, such as EdgeConnex, specialise in providing edge data centre services in smaller markets. At around at around 5,000 to 10,000 sq. ft., these data centres are typically smaller than the mega facilities built and operated by larger providers.

Information technology decision makers recognise the complementary role that colocation providers play. Nearly two-thirds of decision makers responsible for selecting colocation services respondents told 451 Research that colocation providers will likely play an important role in the next two-to-three years for data processing close to the source.

Colt Data Centre Services is proof of the key role that colocation data centres play in the delivery of edge-to-core solutions. The location and capacity of Colt's 24 data centres nicely dovetail with the growing need by enterprises to deal with latency-sensitive applications at the edge. Colt's regional data centres, which are typically less than six miles to end users and have connectivity to internet exchanges, serve as aggregation points and bridges between the Cloud and end-point users with high-volume needs and latency-sensitive applications. This means Colt's edge sites provide enterprises with a robust, cost-effective distribution solution in addition to the traditional rack-based as well as the cage and dedicated suite solutions.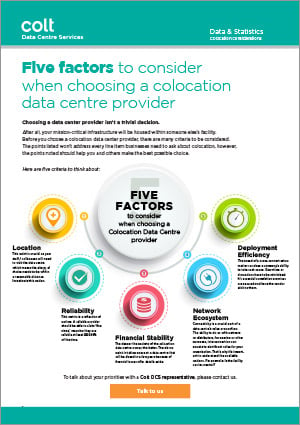 Five factors to consider when choosing a colocation data centre provider
Download our white paper.
Choosing a data center provider isn't a trivial decision to make.
We cover the five most important criteria to consider.
By submitting your details, you agree to our T&Cs.