Data center security of crucial importance before infrastructure is outsourced
Security is of paramount importance to organisations that handle sensitive information such as customer or employee data. Whether it's a bank or a retailer, companies need assurances the data stored on their servers will be adequately protected before infrastructure is outsourced.
That's because stolen data can lead to a loss of customers, high recovery costs and reputational loss. Drives in servers and storage arrays are as vulnerable to theft or loss as a laptop computer even though they're not always seen as targets of theft. In the data centre, every aspect of security (physical or non-physical) has to be covered.
Recent high-profile stories of data security breaches involving large companies have reignited awareness about the importance of security at colocation data centres.
There are a variety of ways data centre operators can secure your organisation's information
The security of a data centre plays a significant role in the protection of data as it's responsible for site security, including protection from network attacks. That means network managers need to ensure the data center operations aren't interrupted by failures, be it issues with the firewall or interactions with the data center's partners.
For more information on the Colt DCS approach to security, download our
Smarter Security
white paper.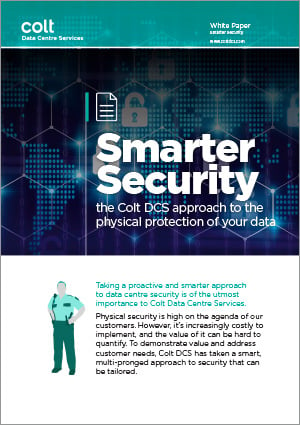 Smarter Security
Download and discover our approach to the physical protection of your data.
Taking a proactive and smarter approach to data centre security is of the utmost importance for our business.
We identify the risks, apply physical controls and implement appropriate surveillance technologies.