Hyperscale companies serve German market
Hyperscale
Germany, 20 Feb 2019
Germany is a hotbed of cloud computing and data centre growth
The growth of colocation data center operators operating in the country has been fuelled by demand from internet giants trying to keep pace with the world's seemingly insatiable appetite for digital services such as e-mail and search.
General cloud computing usage in Germany has tripled since 2011, according to consultancy Clairfield International.
Given that Germans are spending more time using the services of 'hyperscale operators' like Microsoft and Google, need additional capacity from colocation operators like Colt DCS to keep pace with consumers.
Reasons how colocation data centers support
There are other reasons cloud service providers need the help of colocation data center operators building their networks:
Reduced tolerance for latency, which is driving services closer to users (i.e. network 'edge')
As building data center capacity at a rapid rate is not their speciality, hyperscale operators are working on service delivery, and other priorities over new data center builds
By partnering with colocation providers, such as Colt DCS, they can make adjustments more easily and move services closer to users with greater capital efficiency than is possible by building out their networks. It also enhances operating flexibility. If demand doesn't grow as expected, operators can retrench without paying the price of low utilisation.
Cloud computing appetite
The appetite for cloud computing services shows no signs of relenting in Germany. Most analysts expect strong, double-digit spending growth on cloud services until 2020 at least.
Data residency laws that necessitate a certain amount of data processing in the country to serve residents arguably necessitate invest in Germany too.
Cloud service providers house high-performance servers, which store and process data from other companies, in colocation data centers. Companies, such as banks and insurance companies, rent these colocation areas too.
The Internet of Things
The Internet of Things, which is part of Industry 4.0 - the strategic initiative launched to establish Germany as a lead market and provider of advanced manufacturing solutions, is also driving traffic to data centers.
Furthermore, the German Mittelstand, meaning small to medium-sized enterprises, are outsourcing more data to cloud providers for cost-saving reasons.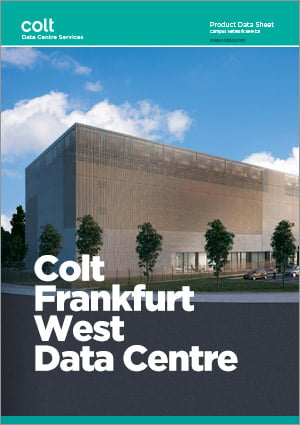 Frankfurt West Data Center Overview
Download our Frankfurt West Data Center data sheet to view what this location has to offer.
We offer an average of 10 carriers with a Point of Presence in each site, and up to 17 customers to choose from in major European and Asian markets.
Should you require a preferred network carrier than what we already have on-site, we can assist with the on-boarding and setup requirements.
If you are considering migrating to this location, we also have a team of specialists that can support you and manage the whole process.
By submitting your details, you agree to our T&Cs.