Sustainability Spotlight - Renewable Energy
Welcome to our 1st edition of the Colt DCS Sustainability Spotlight, where each month we will share insights into the sustainable initiatives we're undertaking globally across our data centres. We will be interviewing colleagues within the business to give an update on all the fantastic steps we're taking to become more sustainable.
As part of our Net Zero by 2045 Action Plan, we're switching 100% of our energy to carbon free sources by 2030. Besides purchasing carbon free energy, we are also generating some of our own supplies on-site. In this blog, Anthea Van Scherpenzeel, Senior Sustainability Manager, talks to Harm Houtman and Edwin Kieboom, Site Managers at Colt DCS, who discuss our new on-site Solar Park at our data centre in the Netherlands and how renewable energy projects like these can help us reduce our emissions.
Could you tell us little about your role at Colt DCS and what a typical day looks like for you?
Harm: Yes, of course. I've worked at Colt DCS since 2014. The Dutch data centre was the first fully owned and new build location by Colt DCS. As Site Managers, our role is to "keep the lights on" at any time. We work closely with our general contractors, engineers and customers to coordinate ongoing maintenance and to continuously improve our performance on site.
Edwin: I've worked as an electrical specialist for over 23 years. Before I joined Colt DCS in 2020, I worked for a Colt DCS sub-contractor providing technical support at different locations in the Netherlands. Right now at Colt DCS, I'm the right hand of Harm and I was closely involved in the development of the Solar Park at our Netherlands data centre.
Colt DCS submitted its net zero target to the Science-based Targets initiative (SBTi) in 2022. Projects like the Solar Park in the Netherlands will help us reduce our Scope 2 emissions and bring us a step closer to net zero.
Could you give an overview on the Solar Park Renewable Energy Project and what the key drivers were?
Harm: Since I joined Colt DCS, I've wanted to get involved in a project like this. We have a lot of space on-site, so this offered a great opportunity for us to invest in a renewable energy project. The aim of this project was to use 100% of the electricity generated for our own operations, which will help us reduce our carbon footprint.

Edwin: I've summarised our progress in a report so that we can share the lessons learned across the business. The solar park consists of 114 panels and generates at peak capacity (under ideal conditions) maximum 42.7 kW. This covers our entire office block and the "meet-me rooms", which are secure rooms that allow businesses to connect to carriers. To keep customers and other visitors informed, we're planning to show the daily electricity generation on a screen in the entrance hall. Internally we share weekly reports of the total generation.
What were the biggest challenges during the project and how did the team address these?
Edwin: The base structure for the solar panels was installed on a gravel field next to our office building which resulted in a misalignment of the panels. We had to adjust the base structure to avoid lower generation and efficiency. Solar panels need to be angled correctly to get the most efficient result. We also experienced some delays in the delivery of equipment parts, as the project took place during the COVID-19 pandemic and we also, still felt the impact of Brexit. Although this was out of our control, it needs to be considered as part of the risk management and project plan. Close collaboration and transparent communication with the main contractor was very important throughout this project.


What's the next sustainability initiative for our data centre in the Netherlands?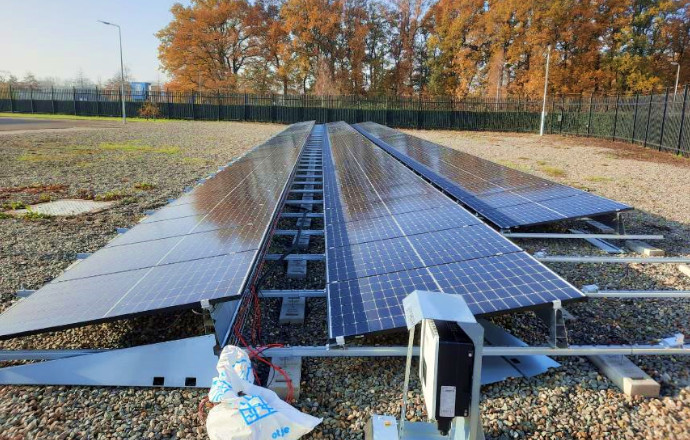 Harm: We will continue to explore new opportunities to improve our environmental performance, including switching to LED lighting to save energy and investing in on-site biodiversity projects. Our next project is to install electric vehicle (EV) charging points to encourage sustainable travel behaviour. These chargers are expected to support at least 10 EVs on site for our customers and colleagues.
Talk to us
If you would like one of our data centre specialists to get in touch to discuss your requirements, please complete and submit this form*.

Alternatively, you can reach us on the phone numbers and email address listed below.
*By submitting your details, you agree to our T&Cs.