Green friendly data centres
Data Centres
London, UK, 18 Dec 2019
Low PUE scores
Colt DCS guarantees low PUEs, sustainable designs, and is committed to acquiring renewable energy in markets where available. Energy efficiency and sustainability can be just as much about cost as environmental protection.
We work with our customer to release trapped electrical capacity in the data centre and make sure environments are sized right for today and with scope for tomorrow's requirements, meaning we can keep efficiency high, and TCO down.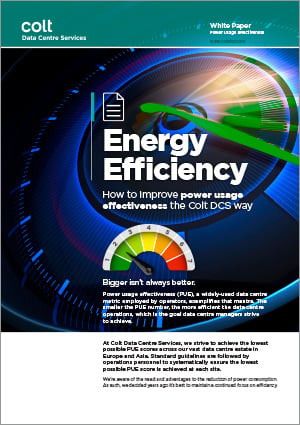 Energy efficiency white paper
Download and discover how you can achieve greater energy efficiency.
In our white paper, we outline the ways on how you can improve power usage effectiveness (PUE).
Become familiar with what your business and teams need to know with achieving energy efficiency.
If you would like further details about PUE, please let us know.