The importance of disaster recovery planning and testing
Data Centres
London, England, 08 Jul 2019
Disaster recovery planning
Disaster recovery plans are an accepted part of business operations. Mention the words 'disaster recovery' to infrastructure and operations personnel and heads will nod in agreement about the importance of plans to restore operations after a worst-case scenario, such as a fire or an earthquake.
Many organisations don't have a disaster recovery plan or don't test the ones they have at all or frequently enough due to budgetary restraints, a small disaster recovery staff, or limited knowledge.
Overworked personnel will readily admit this unfortunate reality yet they often struggle to change matters despite the acknowledgment disaster recovery needs haven't been met.
That's a problem as the chances a business will fail altogether after such an event are higher if such a plan doesn't exist or isn't tested regularly. In other words, if poor business continuity testing is an unfortunate reality for infrastructure personnel, their employers are gambling with the continuity of business itself.
Regular testing (e.g., annually) needs to happen as technological environments change. If the changes that have been implemented aren't tested, infrastructure personnel can't be sure the disaster recovery plan as initially constructed will hold to form.
Even infrequent testing, whilst not as ideal, gives organisations a better chance of recovery after an unexpected and unwanted event.
Data centre services are a critical part of business continuity or disaster recovery.
Disaster recovery services overview
Our customers have the option of deploying both shared or dedicated DR office space, with internet access, conferencing facilities and AV equipment enabling you to get back to business as efficiently and as quickly as possible.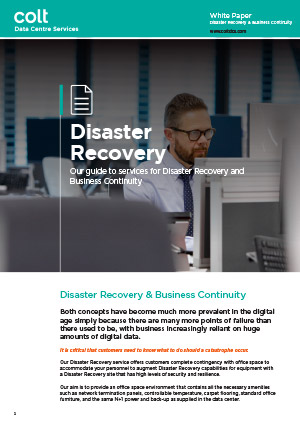 Disaster Recovery and Business Continuity white paper
Download our white paper about our DR services.
Our Disaster Recovery services can be adapted to what your needs are.
In our white paper, we outline the critical planning requirements for Disaster Recovery.
Become familiar with what your business and teams need to know to combat such situations.
If you would like further details about DR, please let us know.