Speed to Market, Flexibility and Scale
For an increasing number of organisations, Hyperscale Data Centres provide the flexibility and scale that are fundamental to the smooth running of their businesses. Without them, they simply wouldn't be able to exist.
Driving the need for hyperscale
The demand for Hyperscale Data Centres has grown significantly in recent years as a result of a number of key drivers.
Scalable capacity
Our vast environments provide our customers with the ability to scale up to meet evolving business demand. The acquisition of large plots with significant power reserves means our customers can rest assured that we are able to cater for their future capacity requirements.
Speed to market
When it comes to delivering exceptional user experiences, speed to market and responsiveness are key. At Colt DCS we have a team of inhouse expertise which has allowed us to accelerate our land banking efforts at an exponential rate. This means we have secured land as well as utility power to additional sites across Europe and the APAC, meaning we can enable our customers to grow in existing markets and enter new ones faster. Allowing them the competitive advantage of working with a reliable and experienced provider, without the risk and cost of building their own facilities.
Sustainability
We are committed to bringing change in the way our industry impacts our environment. This is why sustainability is at the heart of everything we do. Our own sustainability targets mean that we hope to achieve net zero emissions by 2030, enabling our customers and partners to meet their own targets by working with a sustainable provider of choice across Europe and the APAC.
Health & Safety Compliance
With the increasing focus on health and safety we have an stablished and dedicated who are focused on continually refining all matters related to ensuring we have the relevant procedures in place that mean we meet key international legislative regulations across our Hyperscale portfolio.
To build upon on our internal compliance and risk register, we are implementing the Enhesa tool functionality, as DCS Corporate Dashboard and Risk Register for all our sites. This will enable us to be provided with the latest legislative changes, and for these to be reviewed and implemented at the earliest opportunity. It's important as a company, we use the latest available technology advances to manage our health and safety compliance.
"Many organisations are turning to hyperscale solutions to plug the gap in their services, meet rising demand and gain a strategic foothold in new and fast-growing markets".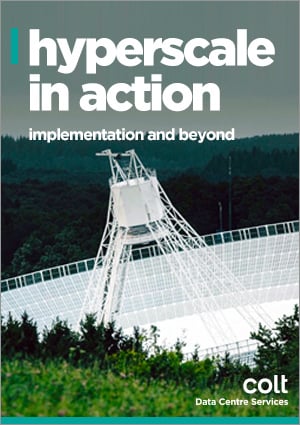 Hyperscale In Action
Managing a large-scale hyperscale project can be difficult, with shifting priorities and interests from different stakeholders.
This guide will examine the major phases of a hyperscale implementation – from preparation to installation and operation – helping you to understand the best choices and actions to take at each stage, to get the most from your investment.
Download your copy now, and if you would like further details, please let us know.