Data Center in Zurich With Renewable Energy
Colt DCS maintains a state-of-the-art colocation data center in Zurich.
This location is ideal for customers looking for energy efficiency and green energy as it employs the latest energy-saving measures.
Renewable energy
Zurich data center is connected to a city water cooling system, with a backup chilled water system. Also, the site operates on renewable energy sources.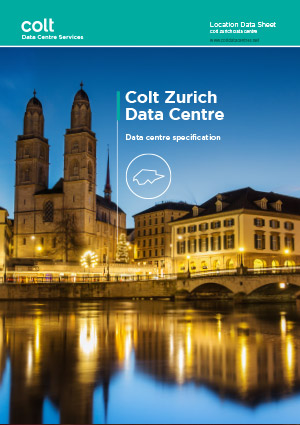 Download our Zurich Data Center specification
Our Zurich data center is compliant with international standards, such as ISO 27001 for security and ISO 14001 for energy efficiency.
Review full specifications on offer at this location, such as facilities available and on-site connectivity partners.
If you would like to know more about our services in Zurich or would like to visit us for a personal tour, please let us know.
Zurich Data Center is compliant with International Standards
ISO 14001 Certification

Environmental Management System Certified

ISO 27001 Certification

Information Security Management Certified
District Heating in Switzerland
Green and sustainable Data Centers
How district heating is used in Switzerland.
Heat is not generated directly at the place of consumption, and that the heat used is by the end user / customer.