Data Center Services in Hamburg
Hamburg Data Center
Colocation and cloud connectivity excellence
This Tier 3 German data center offers state-of-the-art technology and supporting digital infrastructure requirements for all enterprises.
Security services at our Hamburg Data Center operates 24 hours per day, making sure that our customer digital space remains secure, with customer accessibility that provides peace of mind.
Hamburg Data Center Introduction
We recently expanded Hall 3 where the total area of our Hamburg data center now amounts to more than 3,000 sqm. With this expansion, we are responding to the high demand for colocation services in Germany, especially amongst medium-sized companies. Our expansion in Hamburg offers customers the quality, service and security that Colt DCS is known for.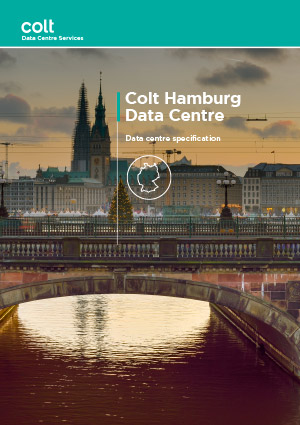 Download our Hamburg data center datasheet
Our Hamburg data center has over 2,535sqm of secure space and provides market leading services.
Review greater details and specifications on offer at this location, such as facilities available, on-site connectivity partners, and more.
If you would like to know more about our services in Hamburg, please get in touch.
We would also like to invite you for a tour of our facilities... just let us know.