Varieties of Data Centre Migrations
Identifying the type of migration is a step in that direction for infrastructure and operations professionals.
Whether it's a relocation, consolidation, cloud migration, or hybrid migration, infrastructure and operations professionals need to clearly outline the type of project and its purpose if the predefined goals of the project are to be achieved.
To that end, decision-makers need to distinguish between the types of data centre migrations and choose the kind that best suits the organisation. The ability to differentiate between types of data centre migrations is part of the organisational effort to communicate what it's trying to accomplish. It makes for a potentially more intelligent conversation among stakeholders, executive sponsors, and vendors.
With those parameters in mind, there are a few varieties of migrations to ponder.
Colocation / Relocation
Data centre relocations denote the move of infrastructure from one facility to another. As such, a relocation effort involves two data centres: the data centre source to the receiver which means another data centre.
Data centre consolidation
A data centre consolidation aims to achieve a higher level of density and decrease the organisation's infrastructure footprint to cut spending on power and cooling. Enterprises do so by decommissioning legacy servers, re-purposing servers, or reducing servers with the help of virtualisation and hyper-converged technology.
Hybrid migration
Many organisations today have hybrid requirements which reflect a need to operate in a variety of i.t. environments. The elements are driven by a need for quick responses to market opportunities and competitive threats. The I.T. department needs to be able to provision services quickly for organisational goals to be met. Owned, leased and operated data centres, various private and public clouds (e.g. infrastructure as a service), and colocation facilities are usually a part of the hybrid cloud equation.
Cloud migration
Cloud migrations equate to the move of applications, workloads, systems, and infrastructure from a physical or virtual environment to a private or public cloud provider, or from one cloud to another. The migration may be made in spite of cost though given that cloud infrastructure may not cost less when compared to the cost of physical infrastructure. However, an organisation can potentially achieve greater agility and scalability by making the transition to the cloud.
The varieties of migration aren't the only significant consideration to be made by buyers. Whether it's a consolidation effort or a hybrid cloud initiative, enterprise kit must be migrated to a new data centre. In the next post on the topic of migrations, there are a few potential use cases to consider.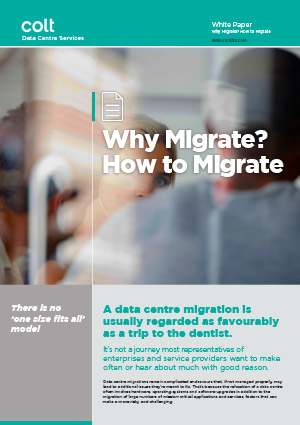 Why Migrate? How to Migrate
Download our white paper on our Migration support and checklist.
There is no 'one size fits all' solution.
Review considerations on when and how to migrate your digital infrastructure:
Discovery
Planning
Development
Validation
Management